Myllykoski Mill at Oulanka National Park Kuusamo
Myllykoski Old Mill at the Myllykoski rapids is one of most famous and beautiful locations in Finland. It is a part of the Oulanka National Park which itself stretches for nearly 80 km, from Ruka Ski Resort in the South, to the community of Salla in the North.
Myllykoski is a great place to visit no matter the season. You can walk from the parking spot at Juuma in about 20 minutes, or 10 minutes if you park at Oulanka Base Camp.
The site features great sceneries with bustling river rapids, high cliffs, and a suspended bridge that lets you cross on the other side, as well as many scenic spots.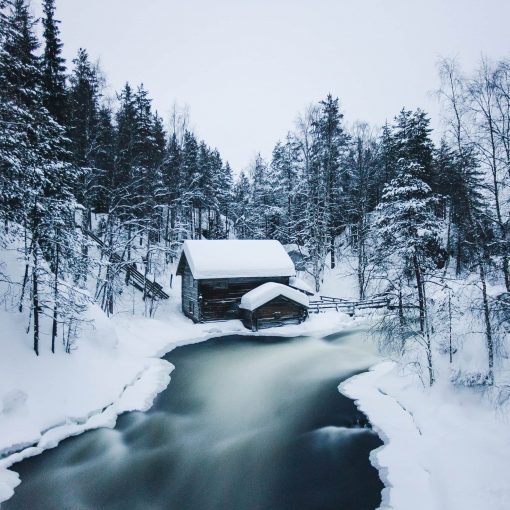 Oulanka National Park is one of Finland's true gems, situated in the Kuusamo and Salla regions of North-Eastern Finland. The park is named according to beautiful Oulanka river that flows through the area, ultimately leaping into Russia.
Over the years, serious concervation and activism actions were required to leave the river untouched by humans. Some hydroelectric plants were planned here, but, luckily, the Oulanka river still flows free, in its pristine state.
Oulanka river has many rapids along its course (for example Niskakoski, Myllykoski, Aallokkokoski), where the flow is so powerful that the water does not freeze even in the extreme cold temperatures.
The National Park has many famous trails such as Big Bear Trail (Iso Karhunkierros) and Small Bear Trail (Pieni Karhunkierros). While the Big Bear Trail will require several days to complete, Small Bear Trail (12 km) can be done in just one day, altough it would be much more difficult in winter due to the snow.
Myllyskoski is situated just 1km from the start of the Small Bear Trail which departs from Juuma. This why it is an easy destination for a day trip, even in winter time. You will still be able to see a lot of beauty, without circling the whole 12 km route. The easiest way to reach Juuma is with a car. The drive will take about 20 minutes.
One thing to keep in mind is that in winter there is lots of snow in the middle of the winter. Usually, trails on the flat surface are easy to walk, however, there are multiple stairs that can become pretty slippery. There are quite a lot of them in the vicitiny of Myllykoski.
If you are in good basic shape, you should be able to cross them with some agility, however, proceed with caution!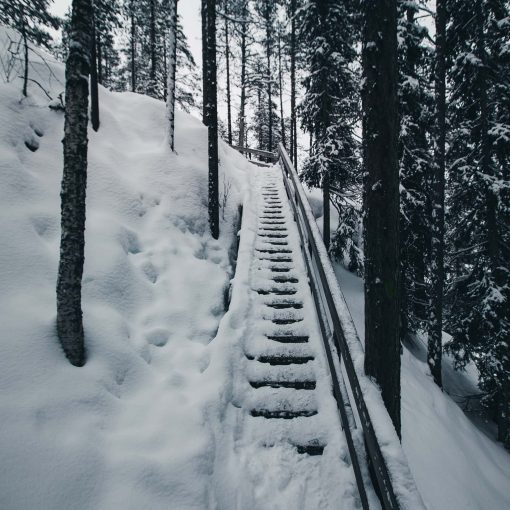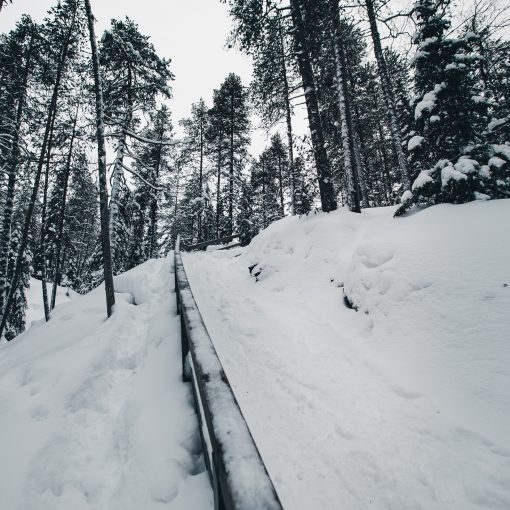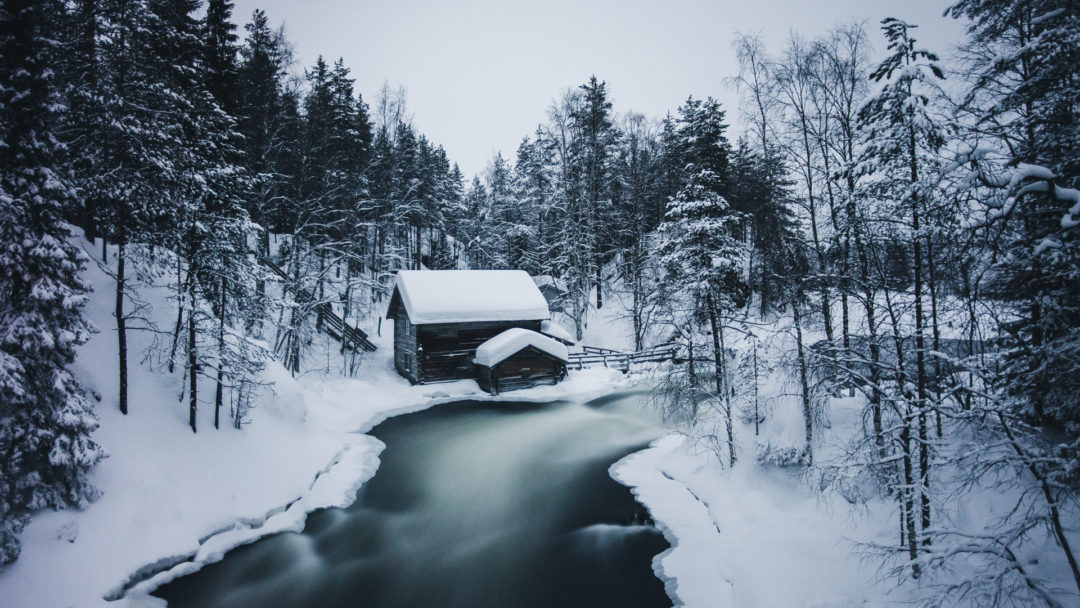 Myllykoski Mill was used back in the day by locals to mill their grain. Nowadays, the Mill is more like an attraction, and a landscape. You can sill walk inside the wooden building and read about its history. Near the mill, there is a fireplace and a woodshed. You can make a nice barbeque or lunch here 🙂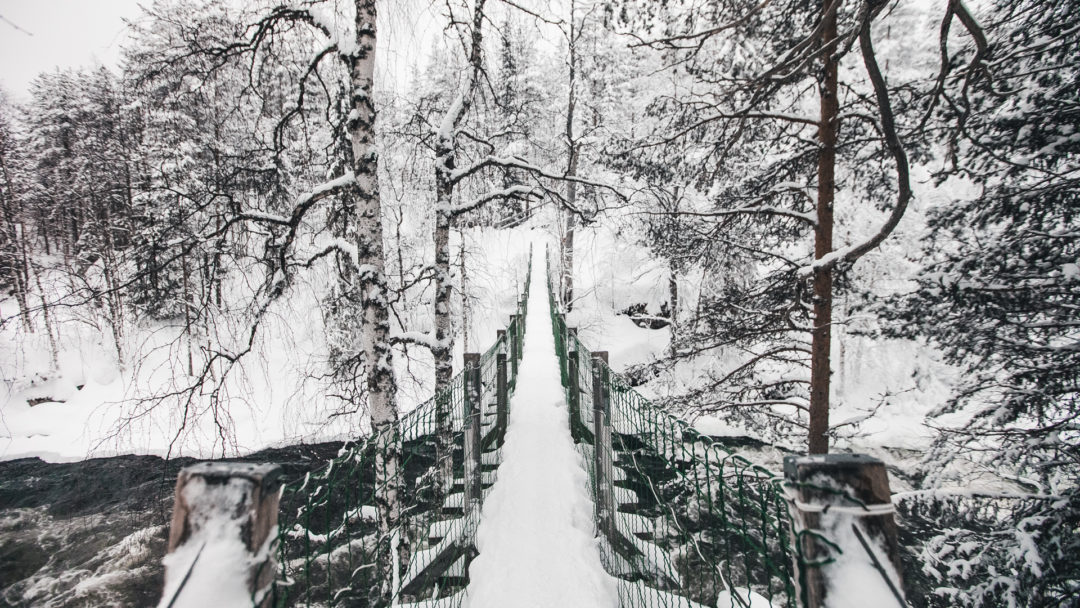 The suspended bridge that hangs over Oulanka river presents a wonderful perspective on the mill, as well as on the rapids. It is also the continuation of the Pieni Karhukierros trail. In winter, there is a bout 20 cm of snow on the bridge itself, which is not uniform, so walk slowy, one by one, and with caution.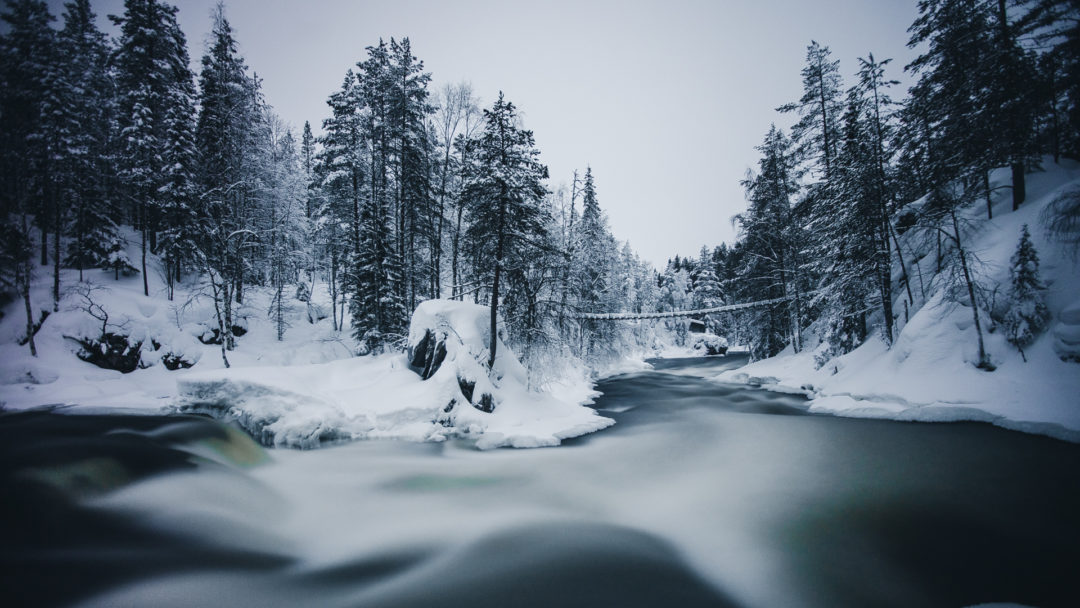 The rapids are very fast at this point, and are quite enigmatic to watch, with their roaring sound. The picture above is taken with 30 sec exposure, which smooths out the rapids nicely.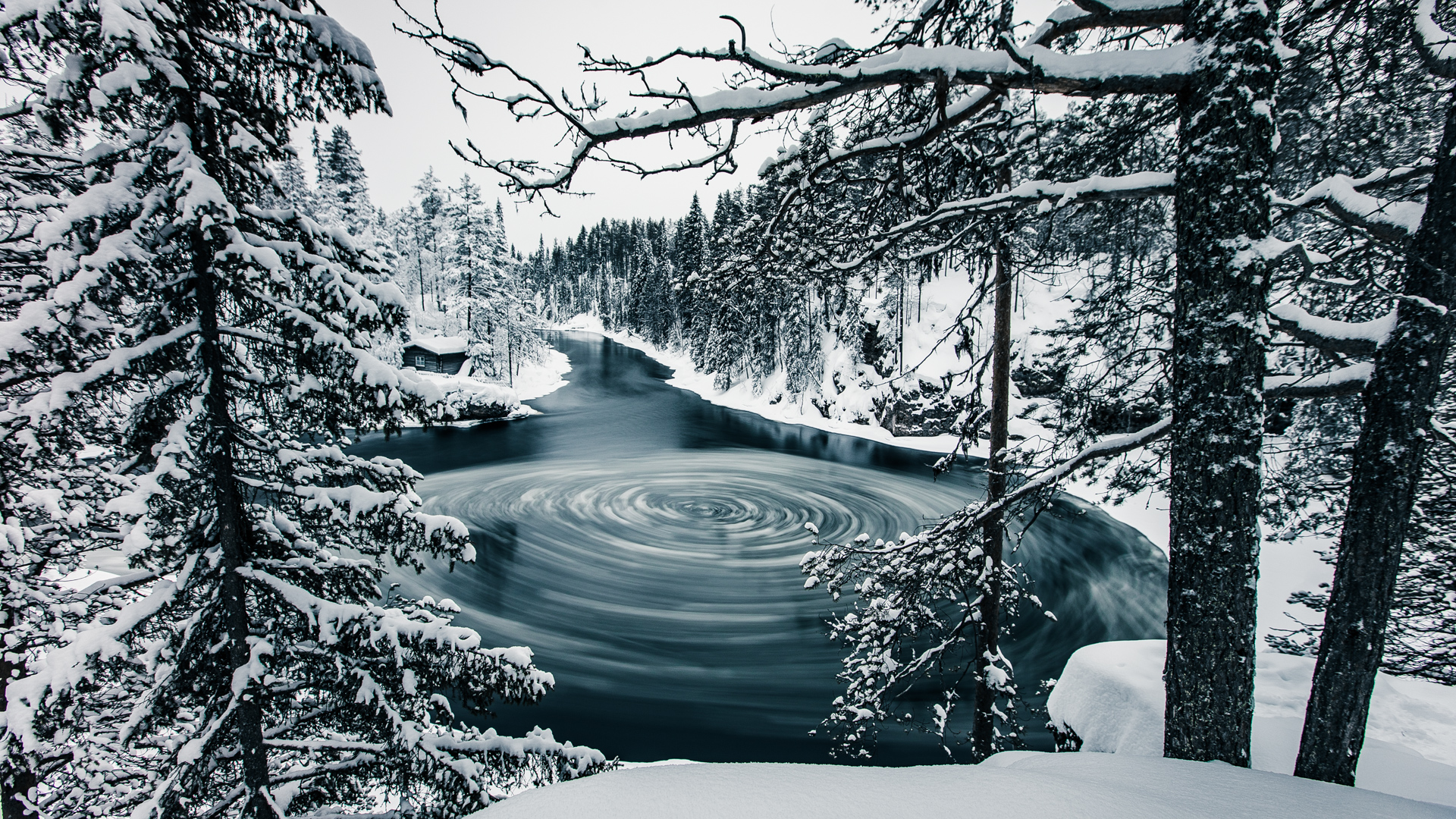 The Myllykoski rapids continue their journey onwards to Aallokkokoski. Right after the suspended bridge, the flow opens into a wide, picturesque "bay", caught between the rocky shores. Here, the flow makes a spinning vortex, and in cold weather, there are many pieces of ice and snow going in circles here. This is called "Akanvirta" on Finnish.
To capture the spinning flow, best way is to use long exposure on a tripod. To do that, you will most likely need some ND filters. I used 400ND filter with 30 seconds exposure to create the photo above.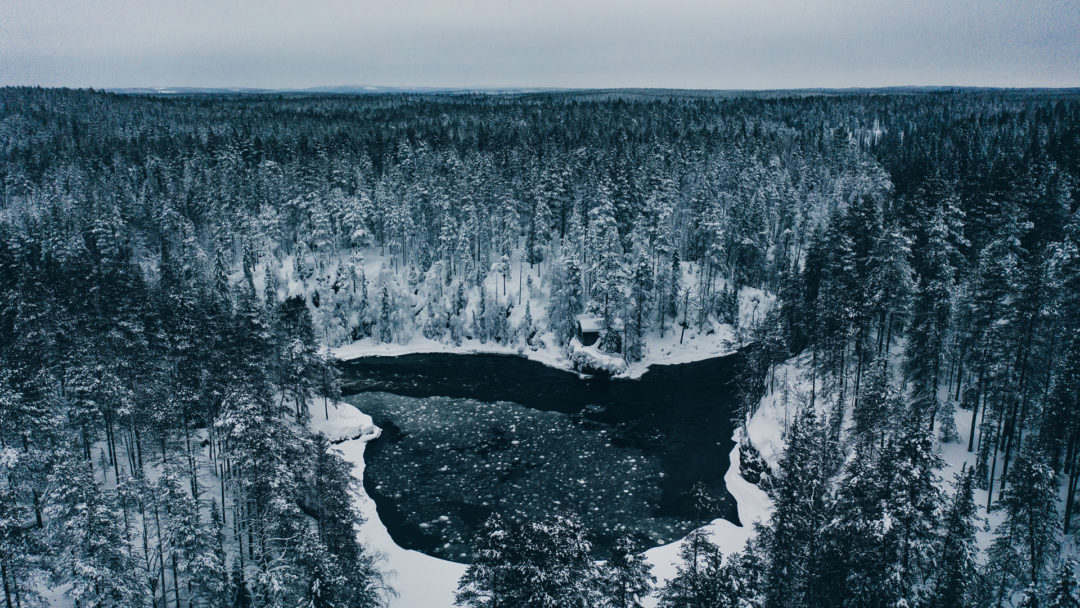 That's how the area looks like from the bird's eye view. During our trip, the weather was quite cloudy, however, the place really shines in bright, cold, sunny days.
Bear Trail offers several barbeque spots and dayhuts for hikers to have a short stay. There are also huts that you can reserve and spend a night in. You can find out about them, as well as other details about Karhunkierros trail from Oulanka Visitor centre and National Parks info portal.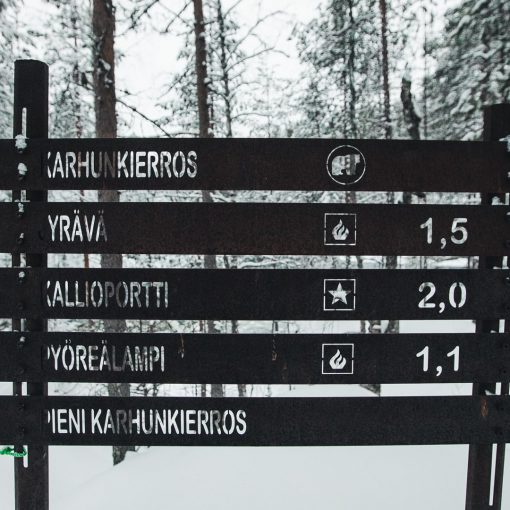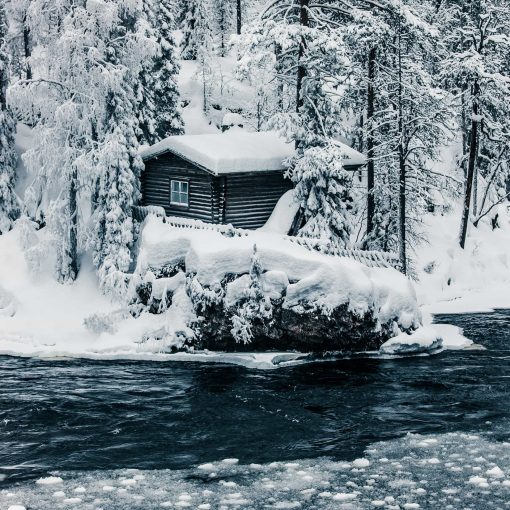 when to visit
All-year-round
getting there
From Ruka / Kuusamo take road E63 until you reach Juumantie. Continue 10 km towards Juuma village on road 18897. The address of the parking spot is Juumantie 134, Kuusamo.
highlights
Dancing ice in cold weather.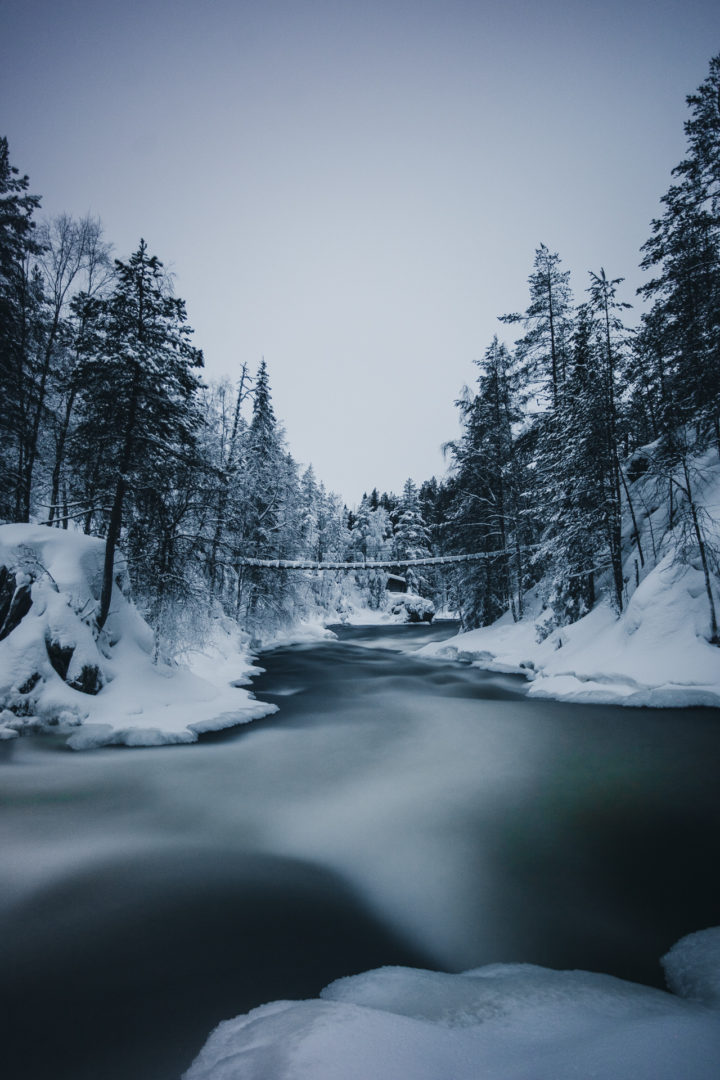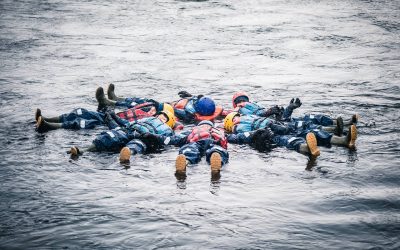 Floating in the icy rapids is one of the fun activities that you can do in Ruka Kuusamo! Feel yourself weightess and let the river carry you down!
read more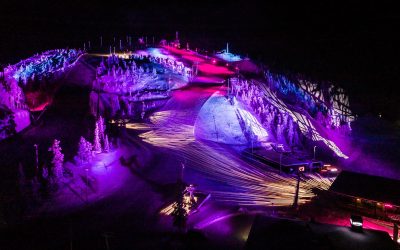 Polar Night Light Festival brings light in the middle of winter darkness! Event is held during the last two weeks of January at Ruka Ski Resort in Kuusamo Finland.
read more
Subscribe to our newsletter!