SnowVillage in Lainio Kittilä Lapland
Lainio SnowVillage is a breathtaking kindgom of ice and snow, that is rebuilt each year! In early winter, thousands of cubic meters of snow and many tons of ice are used to produce this wonderful snow masterpiece. The main attraction of SnowVillage is the ice hotel with amazing snow suites where those who seek for unique experiences, can spend an unforgettable night. 
A few romantic weddings are also held here each winter, at the Ice Chapel. Visitors can also enjoy a dinner at the Ice Restaurant, surrounded by ice sculptures. It's also a great place to visit for excursion, even if you are staying elsewhere.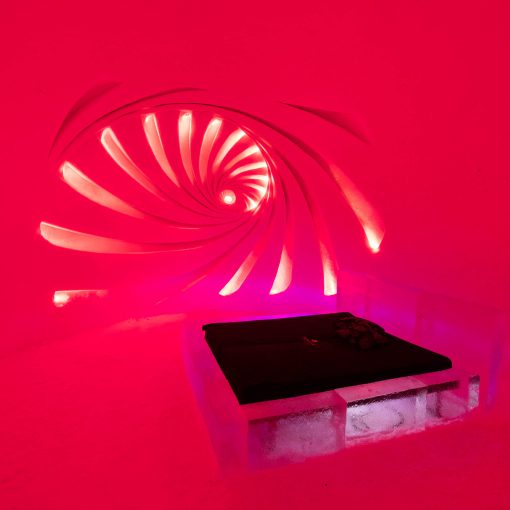 The Lainio SnowVillage was first built in 2001 in Ylläsjärvi, Lapland. Next year, it relocated to Lainio, a few dozen kilometres away, where it is situated nowadays. The location (see Google map) is between the resort of Ylläs and Levi, with about 25–30 min drive from both. You can get here with a rented car, or with a tour.
More that 20 million kg of snow and 350 000 kg of ice are used to construct the SnowVillage. Each year, the Village has a different theme, although for two years, 2018 & 2019, the theme was Game of Thrones, which proved to be quite popular, and gained lots of media attention worldwide.
This year, the theme is 'Illusions' which is reflected in many of the Village's art works. Pictures or videos do not reflect the whole beauty, although we will try our best to present it 🙂
The main feature of SnowVillage are its uniquely decorated snow suites. Yes, they are fully functional! Every year, hundreds of people spend a night here, in the middle of the snow. How is it possible, will you ask?
Well, the air inside the snow hotel remains quite warm even during the harshest winter, at around –2…-5 degrees C. This is because snow has some amazing insulating properties. This is what Lapland's animals also know: capercaille birds, for example, construct their "nest" from snow, by swirling deep into it. In the snow, they can survive winter colds much better.
In addition, the hotel offers some very warm, winter-graded sleeping bags. Of course, having some thermal underware and long-johns is also a good idea! Still, this is not an experience for the faint-hearted, but, well, you instagram friends will be amazed!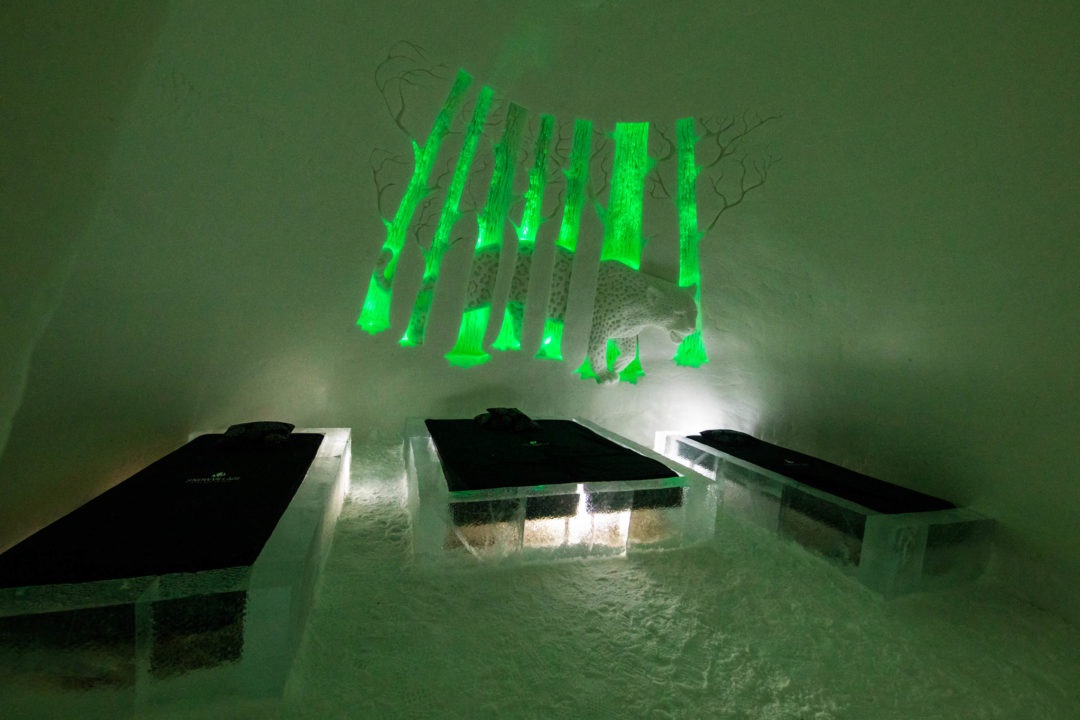 The rooms can fit several people, although there are romantic suites only for two! The main catch of sleeping here is that the bathroom is situated down the hall, so getting up and crawling there in the middle of the night feels quite a challenge 🙂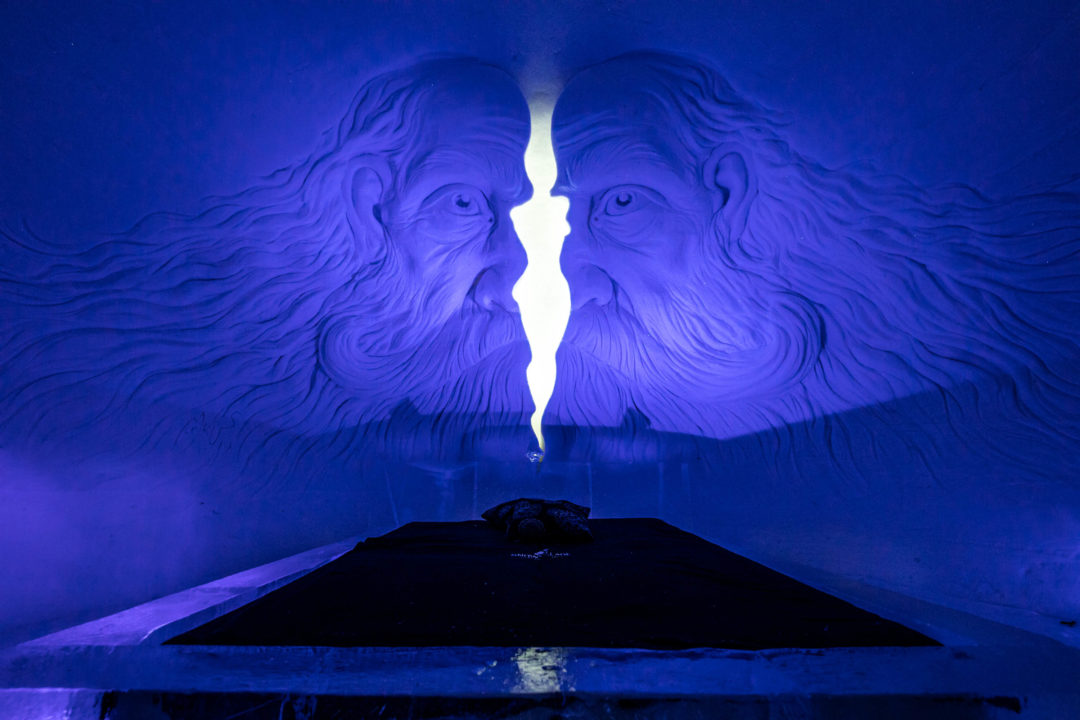 Of course, there is no need to sleep inside the hotel to see its beauty, you can just come daily for an excursion, until early-April.
The Ice Chapel is one of the highlights of the hotel, that features amazing ice scupltures. It is a unique place for a wedding ceremony, as there will never be such a chapel after it's gone with the spring sun.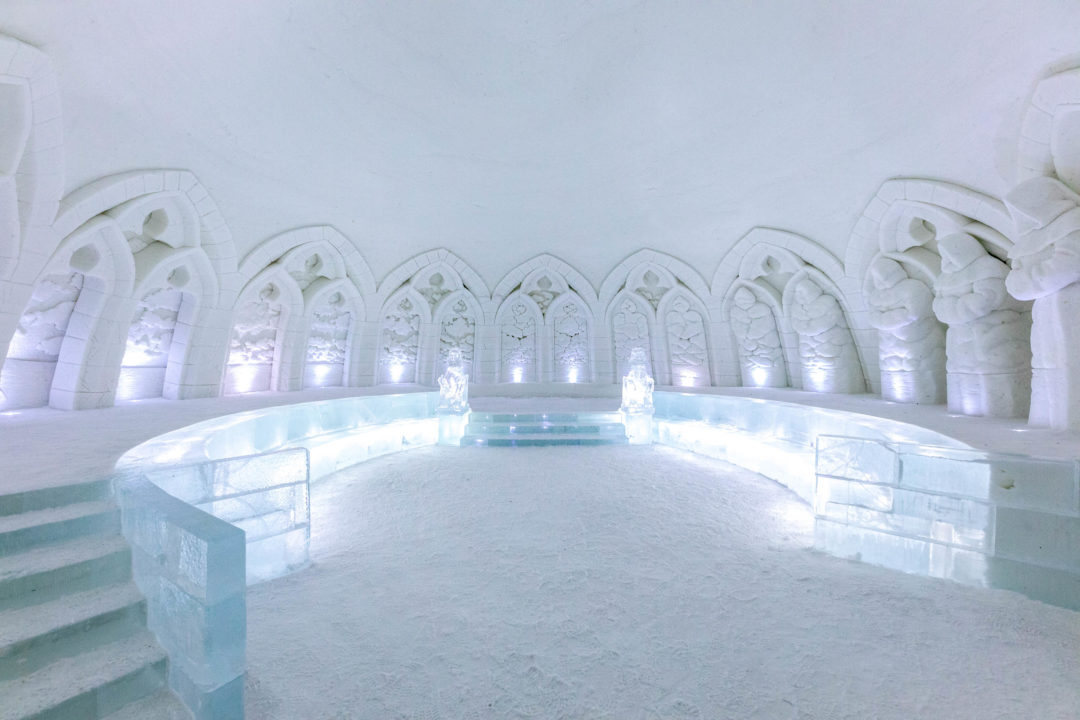 The Illusions theme is represented here in many clever ways. Often, you need a particular viewing angle to understand the illusion, reflected in the ice!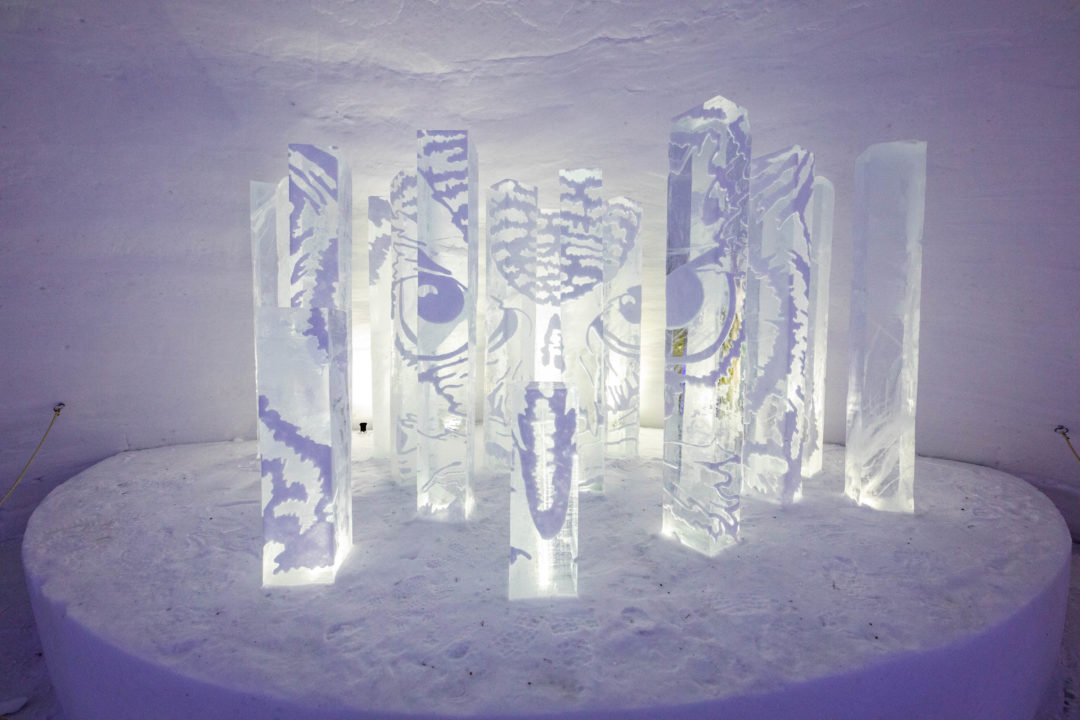 One cool thing to do at the SnowVillage is come for a dinner in the ice restaurant. You will dine in freezing temperatures, so dress well, however, the food will be hot and tasty, presented in a clever way 🙂
watch our video about lainio snowvillage!
The SnowHotel is an amazing piece of winter beauty, and I can warmly recommend to visit! The SnowVillage is usually open from mid-December until early-April. Getting there is easy with a car. Admission price is about 18€ for adults, and 10€ for kids. You can also book a guided tour, if you have a bigger group. That way, you will find out so much more interesting information how the hotel was built! Guide's services cost 65€ (in addition to the entrance fee), and needs to be booked in advance.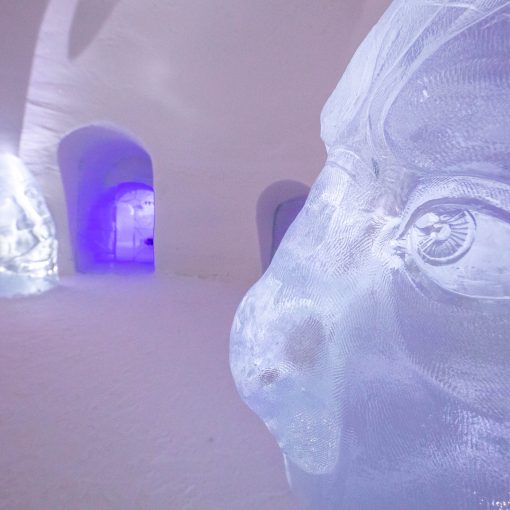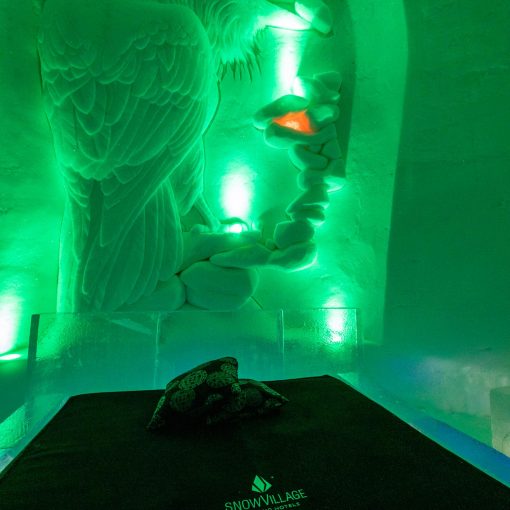 Each winter, the theme of the SnowVillage changes, so if you are visting beyond 2020, you might encounter a totally different view!
opening hours
Daily 10 AM – 10PM until 12th April 2020.
admission
18€ adults, 10€ children aged 4-14
highlights
A night at the Snow Suite!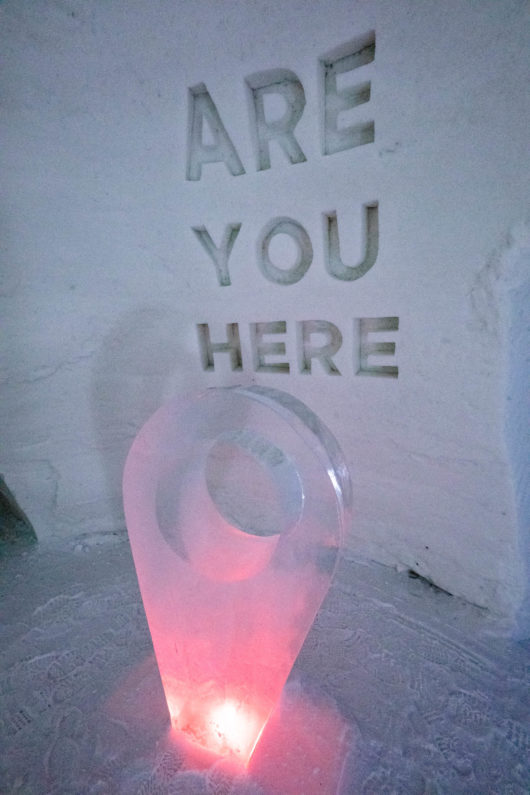 No Results Found
The page you requested could not be found. Try refining your search, or use the navigation above to locate the post.
Subscribe to our newsletter!